DVD presented by Lori Stevens
This one-day workshop gives you the knowledge necessary to immediately use Tellington TTouch with your own dog to help with a variety of behavior and health-related issues.
In this video you will be introduced to tools and techniques to reduce stress in your dog, improve performance, and enhance health. This video includes TTouch bodywork, wraps, movement, and a brief overview of TTouch leading techniques. Using these techniques, TTouch addresses common problems such as:
arthritis and other age-related issues

gait issues

fears, such as thunder, fireworks or the vet

recovery from injuries or surgery

lack of focus and concentration

lack of confidence

over-reactivity

shyness

performance work, such as agility

pulling on leash

inappropriate barking
The combination of TTouch movement exercises and bodywork improves concentration, coordination, behavior, and athletic ability in many animals and is used widely around the world by trainers, pet owners, and veterinarians.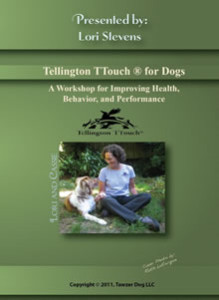 4 hours 38 minutes.
Produced by Tawzer Dog LLC. Copyright © 2015