What is TTouch?
TTouch is a method of working with animals that was developed by animal expert Linda Tellington-Jones  as a result of her experience as a Feldenkrais practitioner. As an experienced horsewoman she realized that some of the Feldenkrais rehabilitation exercises linking body and mind that were used with people could be used to help animals as well. She found that an animal's posture influences its behavior and that physical, mental, and emotional balance are inextricably linked.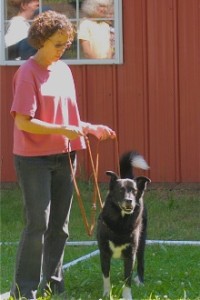 TTouch is a holistic approach, which includes the following:
Bodywork which is gentle and non-invasive
Equipment and tools which increase body awareness
Movement which builds confidence and improves focus
Philosophy which includes empowering animals
Listen to a podcast, brought to you by the Professional Pet Guild, with Lori Stevens (starts at 21:10) about Tellington TTouch Training.
Read my article on TTouch bodywork called 'Getting in Touch With Your Dog" on the Karen Pryor Clicker Training web site.
The combination of TTouch movement exercises and bodywork improves concentration, coordination, behavior, and athletic ability in many animals. TTouch is used widely around the world by trainers, pet owners, and veterinarians.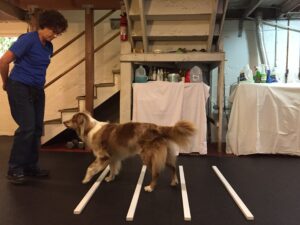 Positive Solutions:
Stress-related immune suppression
Arthritis and other age-related issues
Hip dysplasia
Gait issues
Fear
Recovery from injuries or surgery
Lack of focus and concentration
Lack of confidence
Over-reactivity
Positive Solutions Specific to Dogs:
Contact Lori for more information.